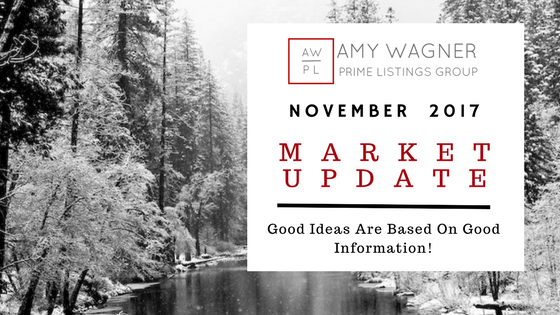 Hello!
It's nearly 2018! How crazy is that!? Many home buyers have added a new home to their list of New Year's Resolutions and with the spring market predicted to peak again, they aren't letting rain, sleet or snow get in the way! Take a look at the November Market Statistics below and have Happy Holidays!
Some Real Estate Leaders have reported the "Typical Seasonal Slowdown" while others are still seeing competitive bidding and high activity at open houses. Despite having the lowest numbers in inventory and pending sales since April, prices are still rising. It is said that this could be the new normal since we haven't seen more than 1-2 months of inventory since 2013.
Nevertheless, some of the best prices on homes are obtained in the winter months due to less competition and motivated sellers. Making this time of the year, the best time to buy. Closed sales rose 2.5% in November from last year, proving there are still sales to be had out there.
Homes are snatched up quickly due to the influx of technology being used to search homes. As soon as a home pops on the market, it is streamed to every device, near and far. Keeping inventory at low levels but home sales still remaining strong.
Home prices are expected to slow down in 2018 but the market is still predicted to remain strong. This will be good news for those planning to buy in the New Year but are intimidated by last summer's sky rocketing prices.
Good ideas are based on good information so make sure to call me today so we can discuss market conditions and build a plan to get you into your dream home!