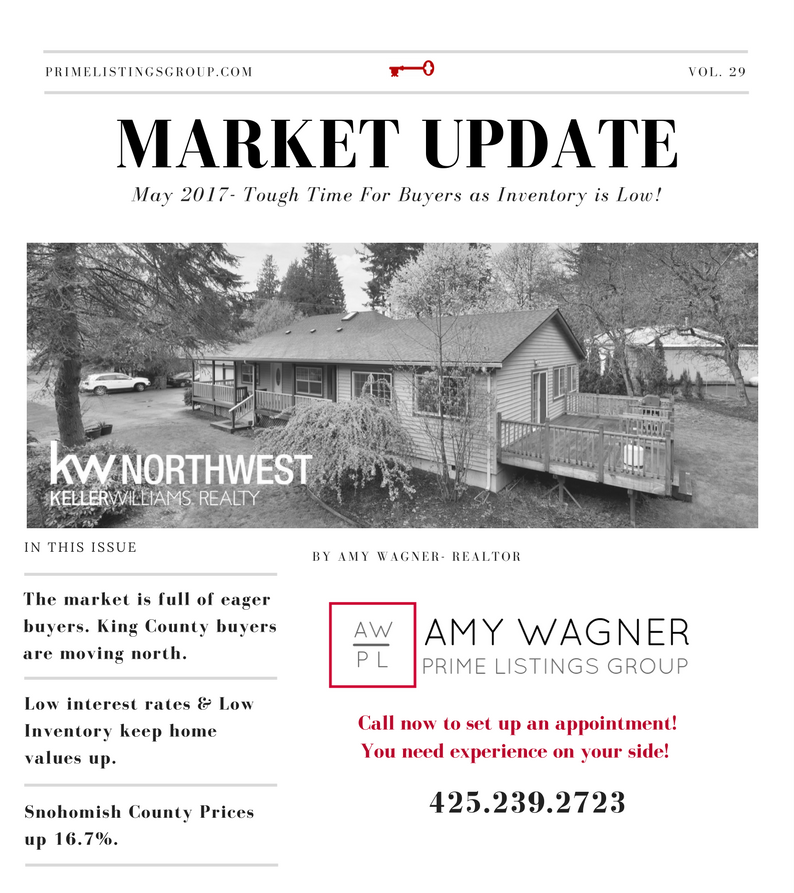 Sifting through April's data the new statistics from MLS show declines in inventory and sales, while prices continue their upward trajectory. There was a little bit of spring relief for buyers in April as we saw inventory edged up slightly from March, growing from 9,774 listings to 10,679 but overall inventory is very low compared to last year.
The volume of active homes for sale fell nearly 25 percent from the amount being offered a year ago. Our remarkably low level of inventory can be blamed for the drop in sales. There just isn't enough to go around,
Without a doubt this is the most frustrating market for both buyers and sellers that we've experienced in many years. The frustration of low inventory is prompting sellers who haven't been able to find their next home to look into undertaking major remodels instead of moving, thereby putting even more pressure on buyers who are struggling to find a home. Although buyers are being aggressive, it appears the prices they are offering on homes are starting to plateau. Educated buyers cannot justify many of the home prices being set forth on the market.
Escalating prices in King County are prompting house-hunters to head north. Prices in Snohomish County shot up 16.7 percent from a year ago. In Snohomish County, the median price for single family homes and condos (combined) eclipsed the $400,000 mark, climbing to $416,668.
Everything is down except prices. The number of pending sales for the first four months of 2017 are lower than the same period a year ago (down about 8.5 percent), the number of new listings are even lower (down 24.3 percent). That combination is shrinking the available inventory at an unprecedented pace. This low supply and high demand continues to put upward pressure on prices.
Entry level homes are getting harder to find, making life difficult and very competitive for first-time home buyers. The end game for the rest of 2017 is clear: more scarcity, more angst by buyers, more reluctance to sell among sellers because they can't find their next home.
The Fed's increase of interest rates in March didn't seem to deter buyers. The forecast by Fed officials is that we will probably see two additional quarter-point rate increases this year. The next one will likely be ahead of the Fed's next meeting in June.