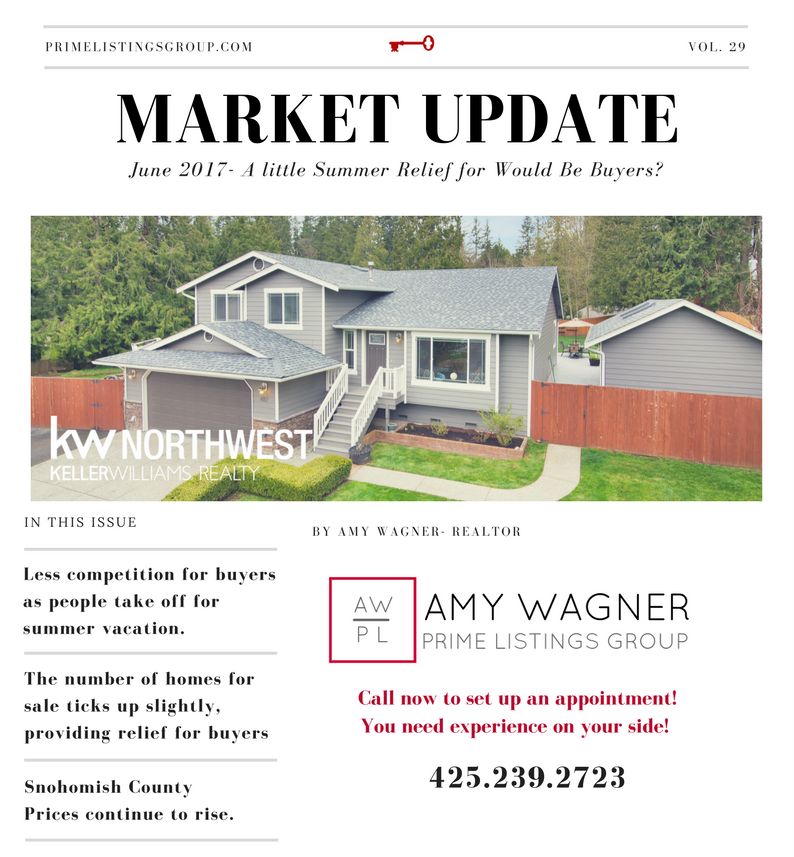 It's June!!! Hopefully this rain will go away and we will start to see some consistent sunshine soon. If you've been wanting to buy a house, I see some sunshine on the horizon for you. We are starting to push past the traditionally tight spring market as summer is just around the corner.
Would-be buyers who have been shut out of the real estate market should test the real estate waters during the summer months. Some of the newly-released statistics serve as indicator that summer might provide some competitive relief for weary buyers. People begin going on summer vacations which takes some buyers out of the process. We are also seeing the number of homes for sale tick up ever so slightly which could prove positive for buyers. That being said, the demand in the Puget Sound area is very high and the months of inventory continues to trend down, so I expect competition for homes to remain pretty fierce in the coming months.
We finally saw new inventory come on the market in May. New home inventory outpaced pending sales. This translated into more opportunities for buyers, but with such a quick action market, they still had to act fast to win a home.
Compared to a year ago, the volume of new listings increased about 10 percent. Total active inventory is down from a year ago, but about 6.8 percent better than April. Inventory levels are at .91 months in Snohomish county, that's well below the 4-to-6 month figure often used to describe a balanced market.
Home prices are still rising (up 11.2 percent state wide, more in Snohomish county) compared to a year ago. The combination of strong demand and limited supply continues to fuel competition and multiple offers situations.
Today's successful buyers are prepared to act quickly and decisively when the right home comes to market. That means a lot of smart prep work before the active home search. Every buyer's road to success in this market starts with working with a professional, full-time Realtor.
Things are pretty well lining up for an interest rate hike mid month which may throw another interesting spin on the market as more buyers scramble to buy in order to lock down low interest rates. Here are today's rates but things may change after the Fed's meeting on June 13 or 14th. Happy Summer everyone and email, text or call me with any questions.
Your Realtor,
Amy