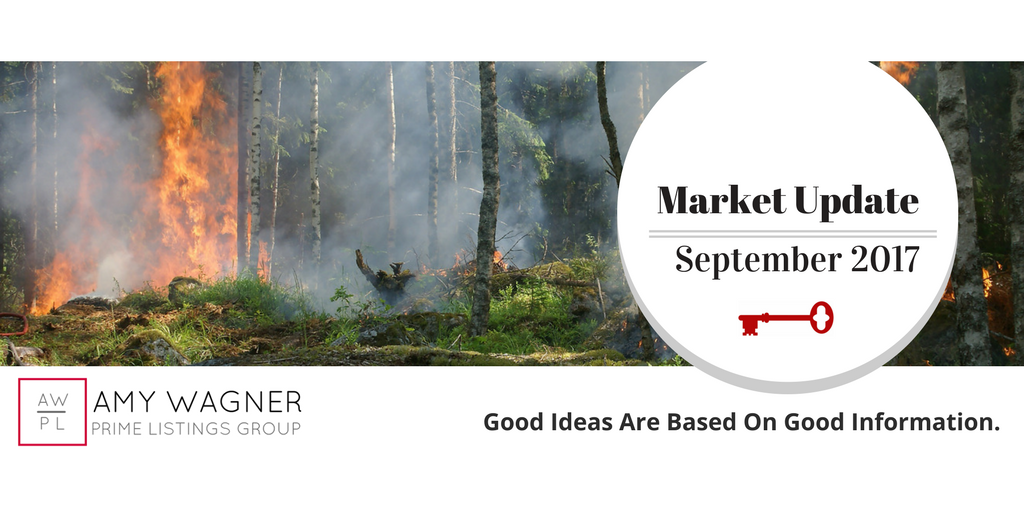 Did you smell the smoke? I sure did. While the real Washington fires burned, the latest numbers from Northwest Multiple Listing Service showed the real estate market is on fire too, with the demand for housing and upward prices showing few signs of being extinguished.
There were about 12.8 percent fewer listings on the market in August than were seen this time a year ago. Sparse inventory is the likely factor. Home prices continue to increase by double digits compared to last year and inventory is still around a one month supply with four to six months supply being balanced.
The market's activities can still be described as a fast-paced seller's market, but the stagnant pool of sellers is beginning to grow as these sellers realize they can't overprice their homes, even in this market. We are still seeing multiple offers on well-priced homes, but here is a note of caution to sellers: Overpriced listings are not getting showings or offers. Buyers are well educated, well informed and unwilling to pay too much. Appraisals continue to be an issue. With one out of every three appraisals coming back lower than the listing price, making it hard for buyers to get financing.
Changing seasons will likely mean a drop-off in listing activity. It's been our best summer ever for sales activity with June, July and August clocking in a record number of transactions. Strong job growth and attractive interest rates can be credited for propelling sales forward.
As we head into fall, September and October will see new listing inventory drop by about 20 percent from the summer months, so the next two months will be the best opportunity for selection and availability for buyers to purchase a home. Come November, the number of new listings will likely drop by another 30 percent over the winter. Now is your best opportunity for purchasing a home. Interest rates are low and inventory is only going to get tighter.
With football season starting, we will start to see people change their showing schedules to accommodate. Saturdays will more than likely become the preferred showing day for Open Houses. If you didn't get one of my Seahawks Sunday Funday Calendar Magnets, send me your address. I still have a few left.
While these real estate fires continue to burn throughout Washington, I'm here to help. It is important now, more than ever to work with an experienced agent to make sure you are pricing your home right or putting your best offer forward. If you or anyone you know needs help with a real estate transaction, feel confident that my many years of industry knowledge and full-time experience will help make your transaction as smoke free as possible. I'm around all week give me a call!
Amy Wagner l Realtor l Designated Broker